Tips for treating dry winter skin plus solutions for healthy winter skin
By Carla Snuggs

With the lower temperatures and drier air comes dry, chapped skin. Biting winds, steamy showers, dipping temps, and indoor heat are just a few seasonal hazards that can cause skin to go haywire. Not only is dealing with dry skin uncomfortable, but it can even cause breakouts.

"Dehydrated skin cells turn over more slowly, causing a buildup of dead skin, which can clog pores and lead to acne flare ups." says top NYC Dermatologist and Founder of Schweiger Dermatology, Eric Schweiger, MD.
Winter Skin Help: 5 Tips for Treating Dry Skin
For the sake of your skin, consider these shortcuts to a smooth, soft and clear complexion:

1. Bring Back the Humidity - Regular use of a humidifier will add necessary moisture back into the air and into your skin.
2. Wash Only Once - This may come as a shock, but during the fall and winter, you get a free pass to wash your face only once a day–at night time. In the morning, just rinse your face with a splash of cold water.
3. Shut the Front Door – Close the door when you're taking a bath or shower. You'll trap the steam in the bathroom and your skin can soak it in.
4. Moisturize Wet Skin - The best way to lock in moisture is by applying your creams and moisturizers onto damp skin. This way you'll trap all those water molecules onto the skin. Wait no longer than three minutes to apply your moisturizer post-shower.
5. Be Ingredient Savvy - Start reading skincare ingredients. Rather than just buying a lotion or cream because it says "fights dry skin" or some other marketing language, make sure it has ceramides, glycerin, shea butter or stearic acid, lactic acid, dimethicone, urea or mineral oil, all of which are excellent skin hydrators.
Solutions for Healthy Winter Skin
Don't let the winter blahs take a toll on your skin. Fighting the cold and being sun and vitamin D deprived can add unwanted stress to your body and complexion. Stress compounded by lack of sleep can manifest as wrinkles, skin laxity, dryness, breakouts and more. Here are some solutions to help you get healthy winter skin:
Exuviance Daily AntiOxidant Peel CA10
Defy winter dullness with this one-step daily peel. 10% Citric Acid exfoliates and prepares skin for moisturizer absorption and smooth makeup application without downtime. The antioxidant power of Citric Acid neutralizes damaging free radicals brought on by daily environmental exposure to help prevent signs of aging ($65, Ulta.com).
Thesis Beauty Organic Face Serum and Body Cream
Thesis Organic Face Serum is a lullaby for dry skin. It's 99% organic goodness, all natural and with non-gmo Vitamin E (not synthetic tocopheryl acetate). There are no preservatives, no synthetics and it's vegan. Comprised of many cold-pressed, precious and rare oils, it is an excellent moisturizer that effectively replenishes moisture levels in the skin tissues, so you instantly feel how fresh, revitalized and supple your skin becomes. Sinks in within a few minutes or faster and is great to wear under makeup. There is also an Unscented serum with all the moisturizing and nourishing benefits, but without any fragrance or essential oils. Thesis Organic Body Cream (Lavender Fields) is also 99% organic, vegan, all natural plus non-gmo Vitamin E, exceptionally rich, moisturizing and fragrant cream which utilizes raw shea butter. Thesis Beauty focuses on using raw, unprocessed, non-deodorized ingredients. This luxe body cream absorbs easily, preserves and replenishes moisture in your skin and provides the ultimate, lasting comfort and the scent of organic Lavender and Bergamot scent is so soothing and relaxing.
Lumixyl Revitaleyes
Revitaleyes is the first and only eye cream formulated with Decapeptide-12 as part of a truly comprehensive treatment to correct dark circles, eye-area lines and wrinkles, dryness and
inflammation. Most other products tackle just one or two of these issues, leaving behind unresolved problems. Revitaleyes addresses all of the major contributing factors to dark circles under the eyes. The result is brightness, smoothness and firmness. Learn more here: Lumixyl.com
Kat Burki Body Butter
Immerse yourself in utter relaxation with this highly moisturizing body butter. Rose Hip, Coconut, Tamanu and Evening Primrose Oils repair and restore skin elasticity with essential fatty acids and offer intense hydration. This butter is designed to quickly absorb, and leave skin lightly and decadently scented with an all-natural fragrance ($62, Katburki.com).
Skin Authority Moisturizing Mist and Tri-Power Peptide Hydrator
Goodbye, dry, parched skin! Skin Authority has a fabulous Moisturizing Mist. The spray cools on contact to calm and soothe dryness, minor irritations, inflammation, itching, and rash. Skin Authority Tri-Power Peptide Hydrator is also a winter weather must-have! It's a multitasker that provides intense hydration and anti-aging benefits through a combination of peptides, Vitamins A, B, C, and E that help hydrate, nourish, and promote healthy cell growth.
elure Advanced Skin Brightening Lotion
Steal this skin brightening secret from top beauty editors. elure gently yet quickly diminishes the appearance of stubborn discoloration with the natural mushroom derived enzyme Melanozyme™. Users report visible results after just 8 days ($125, Lovelyskin.com).
Aubrey Calming Skin Therapy Collection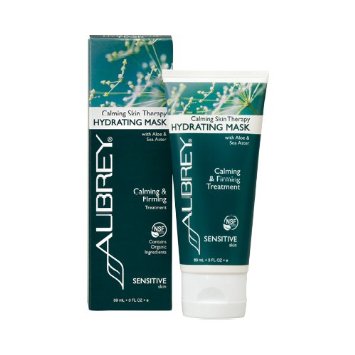 Ideal for sensitive skin, the Calming Skin Therapy regimen is rich in antioxidants that hydrate and reduce redness. Aloe and Sea Aster calm irritated, stressed or sensitive skin, leaving it firmer and moisturized.These mild formulas soothe, hydrate and gently purify sensitive skin. Posh Beauty Blog Picks:
Sublime Beauty
Sublime Beauty has a great lineup for products perfect for parched winter skin: Posh Beauty Blog picks:
Sublime Beauty Face Whisperer Day Cream: A moisturizer that includes qualities to draw in moisture and lock it in will help skin enormously and help makeup to look better.
Sublime Beauty Pure Luxury Facial Mask: A weekly facial mask with rich qualities will help revive and fortify skin. This mask includes antioxidants, some botanicals and collagen:
Sublime Beauty Face Whisperer Neck & Decollete: A luxurious cream for the neck. Not only is the skin there especially fragile and shows age more quickly, it is often exposed to cold air or "jostled" from thick scarves or turtlenecks. This cream has a number of organics and is rich and creamy.
Jan Marini Limited Edition Holiday Exfoliator in Cranberry Orange
The weather outside may be frightful, but skin won't be with JMSR's popular, clinical-strength resurfacer that immediately refines texture, leaving skin with a radiant, polished glow. This uniquely designed scrub eliminates harsh abrasives to gently and safely scrub and resurface the skin. The exfoliator uses Glycolic Acid, Proteolytic Enzymes (Papain from Green Unripened Papaya) Spherical Dissolving Bead Technology and Antioxidants to refine skin texture and follicle size, create a perfect, smooth canvas for make-up application, and polish skin, revealing a smooth, glowing complexion. The limited edition Cranberry Orange and Sugar Cookie scents are available now through the end of the winter season here: Janmarini.com
REGENICA Replenishing Cream
In dry environments, the air absorbs moisture, even within your skin! To combat dry air and fight aging at the same time, use an ultra-hydrating product like Regenica® Replenishing Crème. The combination of growth factor technology, powerful peptides and advanced moisturizers replenishes and nourishes skin to reveal a radiant complexion.
Gabriel Organics
Gabriel Organics, a vegan, gluten-free, and Natural Products Association (NPA) certified skin care brand that that harnesses the power of the sea including seaweed, fennel and minerals to create a system designed to regenerate and revitalize the health of the skin, has an option for every skin need, whether skin is dry, normal, combination, oily or aging: Posh Beauty Blog picks:
For Normal to Combination Skin: Seaweed Nourishing Moisturizer ($26.70) A protective, all purpose moisturizer with the nourishing benefits of seaweed. Includes Vitamins C & E, powerful anti-oxidants and free-radical neutralizers.
For Oily, Overactive Skin: Red Seaweed Moisturizer ($26.70) Red seaweed provides an antibacterial and balancing effect on skin, while extracts of green tea and tea tree offer healing benefits and regulate oil production. The result is a fresh, healthy complexion with a velvety, matte appearance.
For Dry, Dehydrated & Aging Skin: Marine Anti-Aging Cream ($35.50) Soothing blue green algae and rose hip seed oil create this high-performance age-defying treatment cream, which dramatically increases moisture and oxygen levels in dry, lackluster complexions.
Press samples were provided by some brands/PR for editorial consideration, product testing, photography and/or review.
Feature image: Manhattanwithatwist.com
How do you protect and nourish your skin during the winter? Leave your comments below!