Holiday skincare gifts to help you give the gift of great skin!
By Carla Snuggs
Searching for the perfect Christmas gift for a beauty enthusiast? Give the gift of great skin! Here are few luxe and skincare gift sets and stocking stuffers to choose from. From lavish anti-aging serums to hydrating masks and body polishes, Posh Beauty Blog has rounded up some of the best skincare products.There's a little something to fit every budget and lifestyle.
Fresh Holiday Gift Sets
Fresh, one of my ultimate favorite brands, has the most amazing holiday gift sets ranging from $18 to $120. Here are a few of my favorites but there are so many more to choose from. Fresh Holiday Gift Sets are available at Fresh stores and Fresh.com
SUGAR DREAM $52 ($74 Value) Indulge in a head-to-toe home spa experience featuring Sugar Face Polish and Brown Sugar Body Polish, nourishing natural exfoliants, and Sugar Lip Treatment Sunscreen SPF 15, a moisture-preserving must-have.
SUGAR LEGENDS $55 ($79 Value): With a different shade for each day of the week, including a new sheer hot pink hue—this is the ultimate Sugar stash of tinted lip treatments SPF 15. There's something sweet for every occasion, every look, and every mood - 7 shades: Sugar Berry, Sugar Passion, Sugar Cherry, Sugar Honey, Sugar Rosé, Sugar Tulip and Sugar Petal.
BLACK TEA SKINCARE AGE-DELAY REMEDIES $92 ($126 Value) Discover Black Tea Age-Delay Skincare, which calls upon the firming and smoothing properties of black tea, a powerful natural antioxidant and ancient remedy for dull, aging skin. Includes faves Black Tea Instant Perfecting Mask, Black Tea Age-Delay Cream and NEW Black Tea Age-Delay Instant Infusion.
Diana Ralys Holiday Gift Sets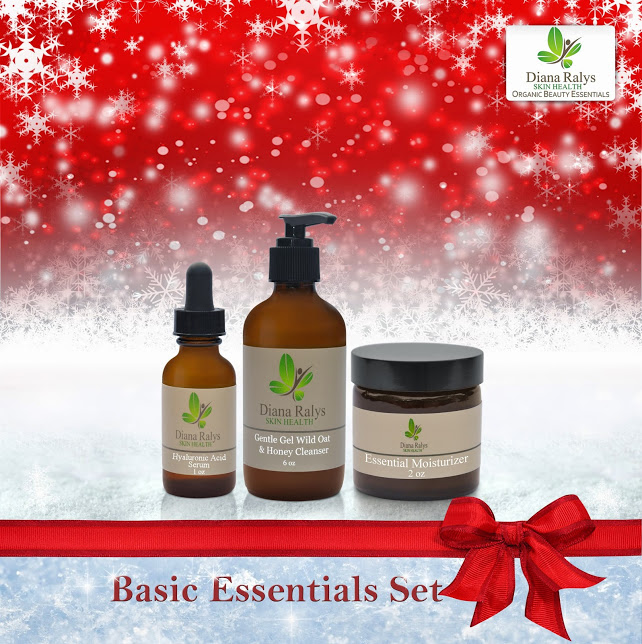 For the holidays, Diana Ralys is offering a variety of holiday gift sets. One we love is the "Glowing Skin Set" which includes 5 full size products: Gentle Gel Wild oat and Honey Cleanser 6oz, Enzyme Microfoliant 4oz, Hyaluronic Acid Serum 1oz, Essential Moisturizer 4oz and Rejuvenating Pumpkin Mask 4oz ($166). The "Basic Essentials Set" includes 3 full size products: Gentle Gel Wild oat and Honey Cleanser 6oz, Hyaluronic Acid Serum 1oz and Essential Moisturizer 2oz. (Price $96). Purchase: Dianaralysskinhealth.com
LANEIGE Skincare
I've just discovered LANIEGE, the new Korean skincare line sold exclusively at Target. The packaging is gorgeous and the products are luxurious, effective and priced right. I am huge fan of the Water Sleeping Mask, an overnight mask that helps you look and feel sensational. LANIEGE products are the perfect stocking stuffer for the beauty junkie, especially the new line of Multiberry products, including the Peeling Gel and Repair Mask with their festive berry themed packaging, berry-licious scent, and chock-full of skin-saving antioxidants. Posh Beauty Blog pick: Laneige Multiberry Yogurt Repairing Mask (Purchase: Target.com)
The Body Shop
The Body Shop has a wide array of skincare gifts. You can also shop on Green Monday (12/8-12/10) is another chance to find the perfect gift for everyone on your list! Receive 50% off sitewide, free shipping, and a $20 value free gift with a $50 purchase. Also, receive $10 off Small & Medium Box Gifts, 2 FOR $15 Gift Cubes & Tubes, and 25% OFF all other Seasonal Gifts! Posh Beauty Blog picks: Mini Cranberry Treats, The Best of Body Butter Snow Globe and the Shea Premium Collection. Shop here
Skincare Gifts from Hydropeptide
Skincare junkies will love gifts and gift sets from Hydropeptide, the luxurious, anti-aging skincare line that uses natural peptides and antioxidant rich botanical stem cells to increase hydration, visibly reduce lines and wrinkles and enhance skin's natural luminosity. Gift ideas include:
Anti-Wrinkle Polish & Plump Peel ($78) – Diminish lines and wrinkles and get the benefits of microdermabrasion with zero downtime
Power Serum ($136) – Achieve firmer, younger looking skin with 100% increased collagen production
Perfecting Gloss in Berry Breeze ($38) – Plump and enhance lip's fullness, volume and definition in minutes with a beautiful rich berry color. The perfect stocking stuffer!
Purchase: Hydropeptide.com
Skin Authority Body Drench Duo
Give the gift of a home spa experience with the Skin Authority Body Drench Duo. Tickle the senses and indulge your body with a luxurious moisture-intense body scrub followed by a luxurious application of rich body butter infused with the bright essences of jasmine, sage, and citrus.
Bamboo Ginseng Scrub gently removes rough, dry skin, while it hydrates, softens, and activates the senses with aromatic essential oils. It provides All-over, non-irritating exfoliation, Softens and smoothes dry, flaky skin, Hydrates dry, cracked skin and calms inflammation.
The Olive, Fig, Shea Butter Body Cream is infused with the earthy and bright essences of jasmine, sage, and citrus. This lush cream formula will hydrate, calm, soothe, and heal chapped skin without clogging pores. It also detoxifies and hydrates skin using oleic fatty acids and amino acids. This holiday set is being offered for $50, regularly $68.
PLUS, Posh Beauty Blog readers can use code Beauty14 and receive $5 off of the already discounted price ($50, SkinAuthority.com). You can also find a host of other wonderful holiday skincare gifts from Skin Authority at Skinauthority.com.
EO Skincare Products
Give the gift of super soft, touchable skin with EO skincare products. EveryOne Body Oils make a great stocking stuffer or set in Cool Down, Nourish and Good Love. These Pure essential oils and exotic plants oils are great for every bath, massage and body! Exotic sesames, argan, virgin coconut and Tahitian oils elevate your mood and leave your skin smelling heavenly ($11.99, Whole Foods Markets and Eoproducts.com/EveryOne).
Golden Door Skincare Gifts
There are some really exciting gifts out of Golden Door, the legendary all-encompassing wellness resort in Southern California frequented by A-list celebrities including Oprah Winfrey, Olivia Wilde and Julia Louis-Dreyfus. Their recently launched beauty product line offers a host of holiday goodies. Posh Beauty Blog picks:
Golden Peel-A-Way Masque: Lifts away impurities and dead skin cells to nourish, hydrate and promote a glowing complexion ($68, Goldendoor.com )
Tinted Lip Treatment : Available in 3 shades – Nude, Mocha and Berry this moisturizing lip treatment provides SPF 15 with a subtle hint of color ($24, Goldendoor.com)
Hinoki Body Moisturizer: Lightweight, deep hydrating body moisturizer absorbs quickly to ease away dryness and restore resilience in the skin for a healthy glow ($18-40, Goldendoor.com)
---------
Press samples were provided by some brands/PR for editorial consideration, product testing, photography and review.
What's on your skincare wish list for the holidays?