Holiday Day Fragrance Gifts for Men and Women
By: Carla Snuggs
The holidays are fast approaching, so if you haven't picked up a gift for a special woman or man in your life, consider spoiling him or her with the gift of fragrance. Here are some posh fragrances for men and women sure to please!
For Her
EAU DE LACOSTE Sensuelle
Feminine and sensual, EAU DE LACOSTE SENSUELLE accentuates an elegant but casual appearance, with a soft twist that is reminiscent of a joyful evening. Beginning with the refreshment given by an evening breeze, the fragrance opens with sparkling, vibrant pink pepper and contrasting tart blackcurrant The soft sensuality of nougatine blends with the rich comfort of amber to provide the perfect fragrance for to set the stage for the evening ahead. ($82, LACOSTE Boutiques and Lacoste.com).
BOSS MA VIE Pour Femme
BOSS MA VIE Pour Femme is the newest fragrance for women from BOSS Parfums. BOSS MA VIE Pour Femme was inspired by an element of today's woman's life that until now has gone unnoticed. It draws on the pleasure she feels when she chooses to step out of her day to day routine, slow down, loosen up and simply enjoy life's moments. The fragrance captures the intimate essence of her independent spirit, releasing the indulgent and fulfilling sensation of simply savoring life - her life ($67-80, HUGO BOSS stores and Hugoboss.com).
Fendi Fan Di Fendi Blossom
Fan Di Fendi Blossom has key notes of cherry blossom, nashi pear, and pink pepper. A subtly sexy scent that is perfect for any holiday occasion. Packaged in a chic pink bottle with Fendi's signature logo, all will welcome this fragrance onto their wish lists ($71-$82, Macys.com).
Lady Gaga Fame
Out of the ordinary, like Lady Gaga herself, this fragrance is built around three main accords: dark, sensual and light. This unique scent is the first black Eau de Parfum that sprays clear and becomes invisible once airborne. Includes a 1.0 fl oz EDP, and 2.5 fl oz Shower Gel. Price $21.99. Available at Kohl's and mass drugstores nationwide ($21.99, Target.com)
Fragrant Confections by Rouge Bunny Rouge
Fragrant Confections by Rouge Bunny Rouge is a fine fragrance range that stands for a beaming joie de vivre in all its facets: innocent and carnal, poetic and seductive, mysterious and comforting, pristine and luscious, intellectual and passionate. Both scents (Arcadia and Tenera) are created for artistic, free spirited women – and unconventional men. Arcadia is a woody metallic floral and Tenera is a very addictive Vanilla woody oriental. Both scents are great for fall through the winter ($129, RougeBunnyRouge.com, BeautyHabit.com and niche boutique stores nationwide).
Kat Burki Fragrances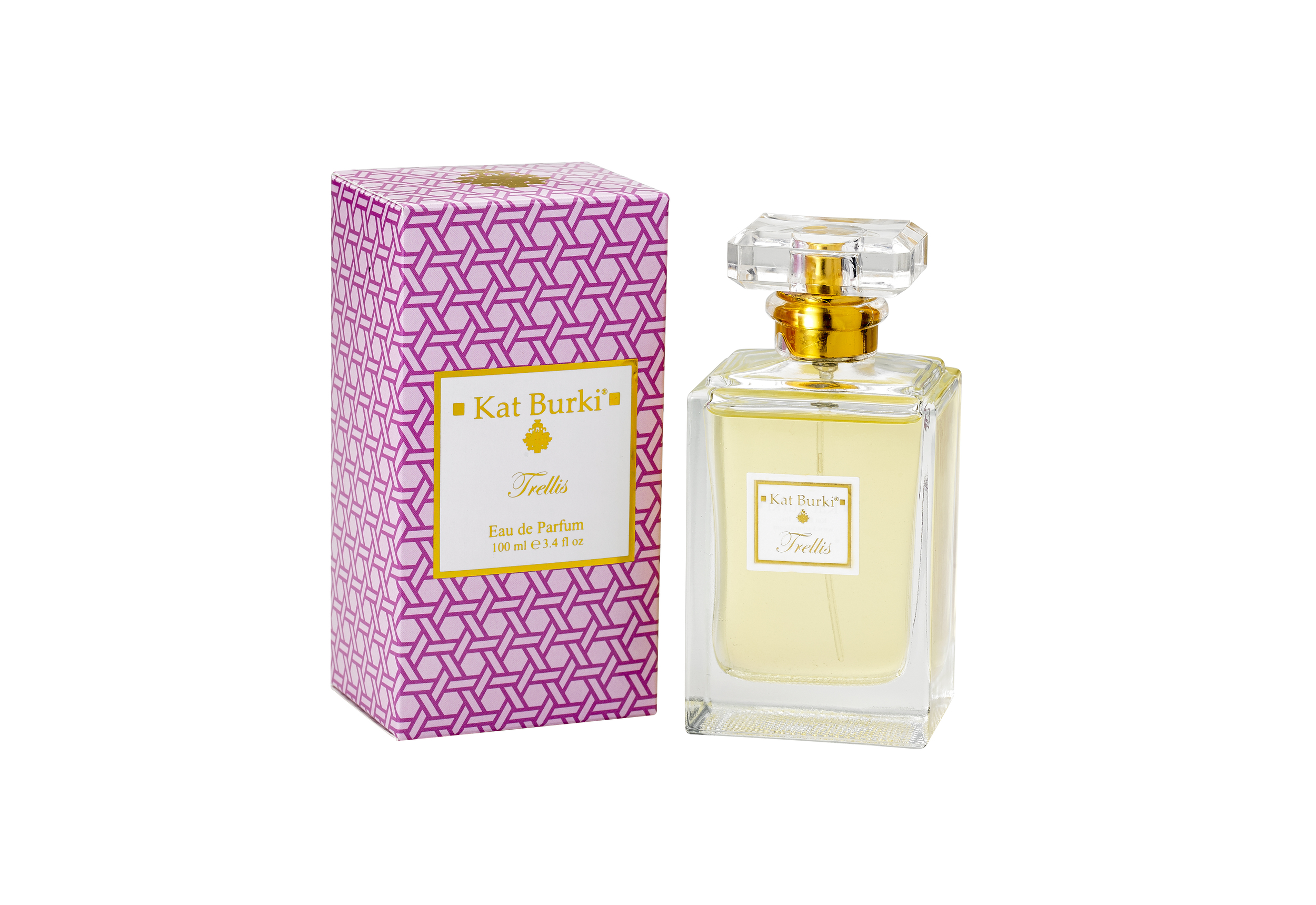 Kat Burki Tubéreuse Essential Eau de Parfum: A sophisticated, deep and layered version of the original Tuberose fragrance, in a lush and sensuous Eau de Parfum. Top Notes: Green, Bergamot, Peach Nectar, Fruit, Orange, Ozonic Fresh. Middle Notes: Jasmine, Sweet Herbal, Lily, Rose, Neroli, Violet, Creamy Coconut, Clove. Base Notes: Rosewood, Powdery Musks, Piney, Green Leaves, Woody, Spicy Nuances ($115.00, Nordstrom.com).
Kat Burki Trellis Eau de Parfum: A fresh bouquet of Jasmine, Roses and Violets made for the graceful and elegant inspired by the bohemian spirit, foot loose and fancy free. Top Notes: Fresh Greens, Orange Zest. Middle Notes: Jasmine, Rose, Muguet, Violet, Sweet Herbal, Ylang Ylang. Base Notes: Powdery Musks, Orris, Woody, Amber, Rosewood, Sandalwood, Patchouli ($115.00, Shop.Nordstrom.com).

Kat Burki Silk Noir Eau de Parfum: A bewitching and mesmerizing blend of Crushed Violet Petals, Agarwood and Sandalwood notes designed specifically for hot city nights! Top Notes: Bergamot Zest. Middle Notes: Crushed Violet Petals, Vetiver. Base Notes: Agarwood, Woody, Sandalwood, Guaiacwood ($140.00, Shop.Nordstrom.com).

Kat Burki Private Collection Eau de Toilette: Enchanting and uplifting fragrance combinations inspired from exotic locations to capture and transport your senses to the far reaches of the
world. Comes in the following scents: Tuberose, Freesia & Grapefruit, Lilac & Rosemary, White Orchid & Poppy ($48.00, Shop.Nordstrom.com).
Scentbird Designer Fragrance Subscription
Scentbird recently launched a Designer fragrance subscription service with a recommendation
algorithm. It think it's the perfect holiday gift because the recipient gets to experience luxury perfumes without having to commit to a full bottle. $14.95 a month gets you a 30-day supply of the designer perfume of your choice right to your door and you select from 350+ luxury scents like Chloe, Gucci and Prada. The perfume comes in a sleek purse spray that's fun to show off and easy to carry. I tried Prada Infusion d'Iris and fell in love. Posh Beauty Blog readers can get 25% off their first perfume by using code Scent25 Learn more here: Scentbird.com
Aubrey Body Spritzers
Made with pure essential oils and nothing artificial, Aubrey Body Spritzers are soft, elegant scents, available in Siesta Sizzle, Tang Tang Tea, Almond Bliss (my fave), Berry Berry, and Tangelo Twist. Aubrey Body Spritzers are natural, vegan, cruelty-free (yay)! Great stocking stuffer ($6.95, Aubrey-Organics.com and health food stores nationwide)
For Him
Boss Bottled Collector's Edition
Exclusively for the holidays, BOSS Parfums introduces BOSS BOTTLED Collector's Edition - a luxurious gift guaranteed to light up his holiday morning. Repackaged in celebration of more than 15 years of success, BOSS BOTTLED Collector's Edition is encased in a sleek, gunmetal grey flacon which signifies the sophisticated simplicity that BOSS BOTTLED represents ($75, Available exclusively at Nordstrom.com and HugoBoss.com stores).
EAU DE LACOSTE L.12.12 Blanc Holiday Gift Set
This fragrance suits a Pure and refined mood - timeless, classic, and inspired by the white polo shirt, it is the hero of the EAU DE LACOSTE L.12.12 range. Clear and aromatic rosemary opens the woody floral creation, which is based around a natural white floral tuberose for a clean and crisp scent. The cedarwood and vetiver woody base notes ensure that the fragrance has a more masculine appeal and direction. If he favors simple, classic, scents, this is the choice for him($72, Macys.com and LACOSTE.com).
Fan Di Fendi Pour Homme Acqua
Fan Di Fendi Pour Homme Acqua, a fragrance that oozes dark masculinity with key scents based off of Texas Cedarwood and musk. Top notes include lemon and bergamot that can go from day to night. Opposite of its feminine counterpart, Pour Homme Acqua's blue color peeks through the sleek bottle and is ready to grant every holiday wish ($60, Macys.com).
EAU DE LACOSTE L.12.12 Noir Holiday Gift Set
The most recent launch in the collection is Intense. Aromatic basil and watermelon surround a dewy white floral magnolia, underpinned by intense, deep patchouli and chocolate notes. Perfect for the warm, sophisticated and deep man, who people find themselves drawn to ($72, Macys.com and Lacoste boutiques).
Stetson Caliber
Since 1982, Stetson cologne has exemplified a proud heritage of strength and masculinity and Stetson Caliber makers the restoration of a true American classic. The Stetson Caliber fragrance opens with notes of sparkling lime and black pepper. The Earthy Oakmoss adds depth of character, while the true star is the woody red sequoia note, giving the fragrance a sexy, masculine finish ($19, Stetson.com and mass retailers).
Press samples were provided by the brand/PR for editorial consideration, product testing, photography and review.
What are your favorite holiday fragrances? Leave your comments below!