Conejo Valley is a great place for a staycation*
By Carla Snuggs
You don't have to travel far to cure your wanderlust. When you're planning your next staycation, consider Conejo Valley. Conejo Valley in California is the area that includes southeastern Ventura County and northwestern Los Angeles County and the communities of Thousand Oaks, Newbury Park, Westlake Village, Oak Park, Agoura Hills, Lake Sherwood and a portion of Calabasas.
Conejo Valley is chock-full of fun things to see and do and is a great escape from the hustle and bustle of Los Angeles. It's very much off the beaten path; it felt like I was in another world when I was only about 90 miles from Long Beach, California. Here, you'll find wine country, mountains, hiking trails, beaches, amazing food and breweries. Keep reading for some fun things to see and do on a staycation in Conejo Valley.
Stay
Palm Garden Hotel
The Palm Garden Hotel is a little oasis in Thousand Oaks. I stayed in the Garden Suite which is a one bedroom, pool-view suite adjacent to the garden with a full kitchen, dining room and living room. The Palm Garden Hotel has excellent amenities and services. There is a delicious on-site restaurant (Brendan's Irish Pub and Restaurant), room service, a heated pool and whirlpool and an outdoor lounge area with cozy fire pits. There's also a beautiful gazebo in the garden that is perfect for weddings, picnics and events. I spent an insane amount of time at the pool and made great use of the large pool cabanas. The pool cabanas are a great place to lounge, read or have a cocktail with friends. The fitness center has a wide variety of equipment and the complimentary business center has everything you need to conduct business while on the road. The hotel is located in a great location as it's in close proximity to grocery stores, restaurants and shopping centers. Coffee is always available in the lobby and the lobby is staffed by friendly and helpful people 24 hours per day.
Play and Indulge
Conejo Valley Botanic Garden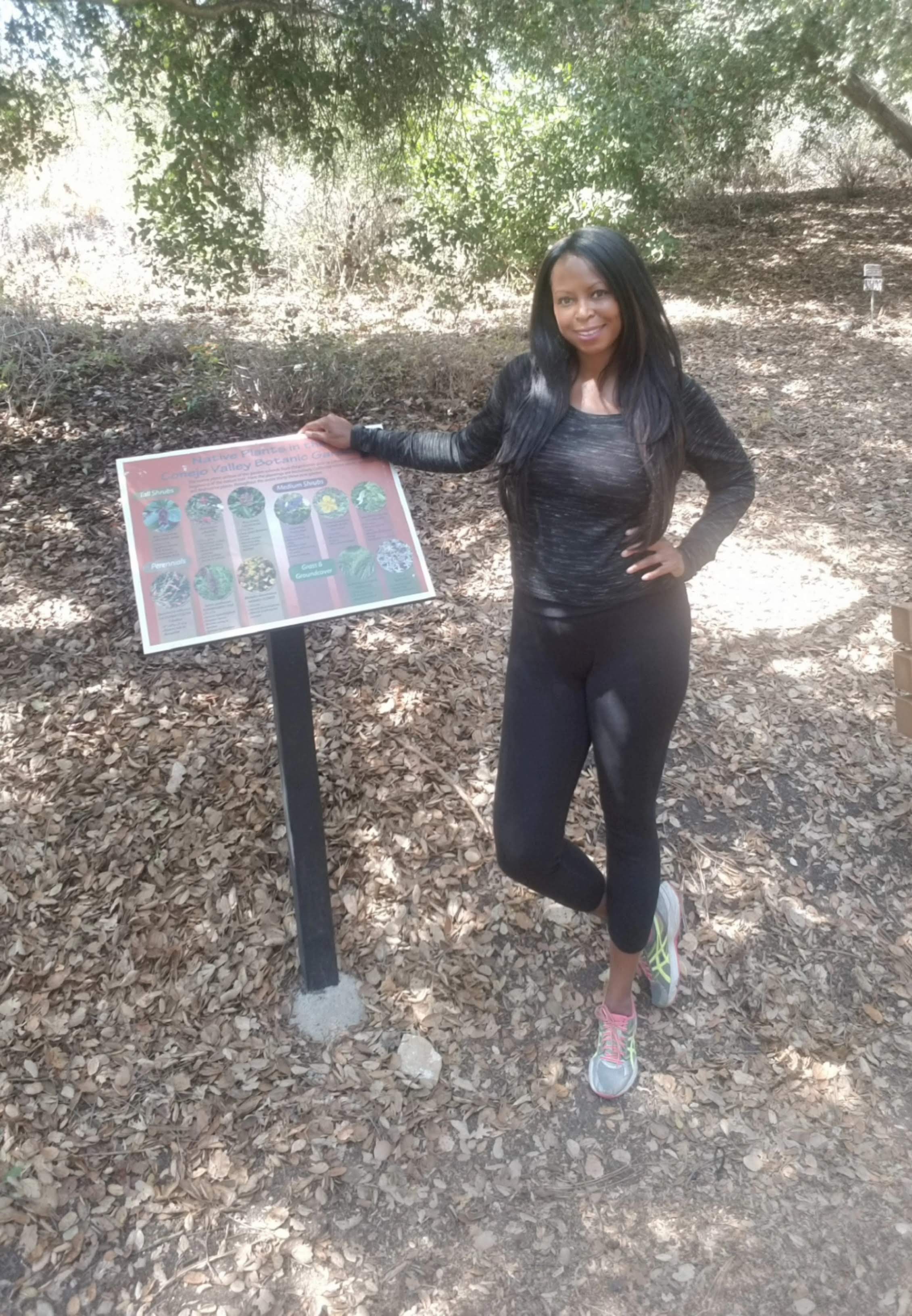 The Conejo Valley Botanic Garden is 33 aces of picturesque natural terrain tucked away in Thousand Oaks. There are 15 specialty hillside gardens and a plenty of hiking trails for all levels. There's also a Kids' Adventure Garden for the little ones. You'll find plenty of shade, benches and picnic areas throughout. I suggest packing a delicious picnic and spending the afternoon in the Butterfly Garden. It's incredibly peaceful and serene. Bonus: admission is free!
Malibu Wine Hikes
A must-experience in Conejo Valley is Malibu Wine Hikes. I had the pleasure of taking a Malibu Wine Hike and chose the Giraffe Hike, a 2 hour, 2 mile guided hike through the vineyards of Saddlerock Ranch. It is an unforgettable experience. You get to feed and pet Stanley the Giraffe, zebras, alpacas and llamas. After the hike, you're shuttled to the Malibu Wines tasting area to enjoy a wine flight, cheese and crackers. It was truly an amazing and breathtaking experience!
We Olive &. Wine Bar Thousand Oaks
Located inside the outdoor plaza of The Oaks Mall, We Olive & Wine Bar is the ultimate olive oil experience. We sampled a wide range of California produced olive oils and balsamic vinegars. The staff is so helpful in guiding you through your tastings and helping you find oils and vinegars you will love. Next, we enjoyed happy hour at the wine bar. They have wine flights, light bites, cheese and charcuterie plates, salads and flatbreads. It's a great way to spend an evening.
Brendan's Irish Pub and Restaurant.
Located just inside the Palm Garden Hotel is Brendan's Irish Pub and Restaurant, available for lunch, dinner, room service and poolside service. My favorites were the Taste of Ireland Sampler (Fish & chips, lamb stew and shepherds pie) and the Whiskey Burger. The Leinster Salad is a great healthier option, with a generous portion of Blackened chicken breast, romaine, avocado, cucumber, tomato, red onion, roasted bell peppers and a spicy vinaigrette. Have a nightcap at the bar; the staff and the locals are super friendly and entertaining
Check out my Instagram Stories to see more about my staycation in Conejo Valley. I've barely scratched the surface when it comes to things to do in Conejo Valley. I will definitely return for more adventures. Visit Conejo.com for more itinerary ideas.
*Disclaimer: This blog post is sponsored by Conejo.com