WestLab Launches Dedicated Beauty Collection of High-Performance Supersalts on March 17
By Carla Snuggs
From spa caves to lamps, therapeutic salts are having a major moment, and beauty insiders are buzzing about the rejuvenating benefits of salt therapy. WestLab, the world's largest importer of Dead Sea salts from Israel, has launched a dedicated beauty collection in select Walgreens stores this month.
The new Supersalt line combines pure Dead Sea, Himalayan and Epsom salt with powerful essential oils like rose extract and seaweed to treat an array of skin-specific concerns. Mineral rich salts help to detox, protect, exfoliate and tone skin while regulating the body's daily functions like balancing electrolytes, metabolism, circulation and blood pressure.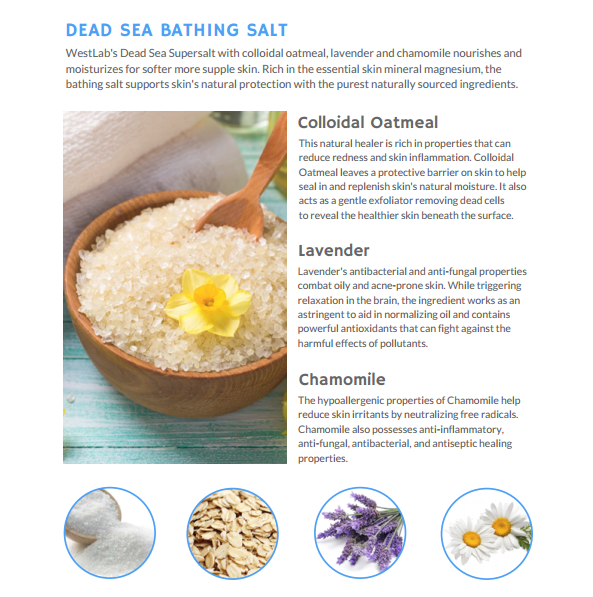 I am so in love with the Westlabs Epsom Supersalt which contains Arnica, Spearmint Eucalyptus. This Epsom salt soak is a game changer since I've been stepping up my workouts and end up so sore at the end of the day. A relaxing soak in the Supersalt Epsom bath salts is so soothing and helps heal and relieve any muscle pain. Plus may skin looks more and more amazing with each use.
The antibacterial, antiseptic and anti-inflammatory properties of arnica help prevent inflammatory skin disorders, aid in muscle recovery and improve circulation. With its antibacterial, anti-inflammatory and antifungal attributes, spearmint can be used to treat a variety of skin conditions including acne and psoriasis and is a natural exfoliator that leaves skin youthful and brighter. While offering serious aromatherapy benefits, Eucalyptus provides vast healing properties to soothe skin and relieve muscle pain. It's also calming and anti-inflammatory so it revives mind and body fatigue. This is now a staple in my home.
Disclosure: Press samples were provided by the brand/PR for editorial consideration, product testing, photography and honest review.
How do you pamper yourself and how often? Leave your comments below!