Gifts for the beauty-obsessed gal
By Carla Snuggs
Looking for a great gift for Valentine's Day? This Valentine's Day give the gift of beauty! Posh Beauty Blog has rounded up some skincare and beauty gift ideas for your girlfriend, sister, mom, niece or aunt. Or just treat yourself! From beautiful Valentine's Day gift sets, to beauty supplements to beauty products to help you for your Valentine's Day date, there is something for everyone.
VMV Hypoallergenics Kiss Kiss Set
VMV Hypoallergenics Kiss Kiss Setis a curated lipstick trio that features must-have, universally flattering lipstick shades ranging from flirty pinks to romantic reds – perfect for the makeup lover. Each lipstick in the collection features the brand's lip-perfecting ingredients – USDA- certified organic virgin cold-pressed coconut oil for barrier repair and supreme hydration plus green tea for serious antioxidant benefits. The gentle-on-skin (to prevent irritation and breakouts around the mouth), high-impact color collection includes Subtle Satin Shine Lipstick in Alizarin – a rich, silky-shine lipstick that infuses instant polish and power in a rose-brick hue // Subtle Satin Shine Lipstick in Strawberry Fields – sweet, yet sophisticated pink with elegant shine // Velvet Matte Lipstick in Light My Fire – a full-coverage, full body, velvet finish lipstick in a show-stopping red. Shop: Vmvhypoallergenics.com
Appriya Comprehensive Mineral Day & Night Cream
Go for the gold! Lightweight, yet ultra-nourishing, this mineral cream infuses skin with superior hydration while tackling a decathlon of aging signs. Imbued with colloidal gold, a powerful mix of vitamins A, E and B5, plus Appriya's signature mineral water that leaves collagen and elastin strong and flexible, this mineral cream leaves skin fresh and luminous. Shop: Appriya.com
Care/of Subscription
We all know that beauty comes from within, so what better way to naturally enhance beauty than to give your body the right nutrients it needs. This year, gift you fitness and beauty loving friends a subscription to Care/of - a new personalized vitamins and supplements service. Care/of provides a stress free, streamlined approach to taking your vitamins by offering an individualized approach based on your areas ofimportance. For example if skin health is your focus, your vitamin pack might inlcude a supplmenent like Astaxanthin which supports overall skin health and helps fight harmful free-radicals that can damage your skin and combats normal signs of aging. Personalized packs begin at $20/month and come in a nicely designed tea-like box with individual pouches (with your name written on them), so they're also great for when you're on-the-go. Gift cards can be purchased in increments of $30.
JuvaLips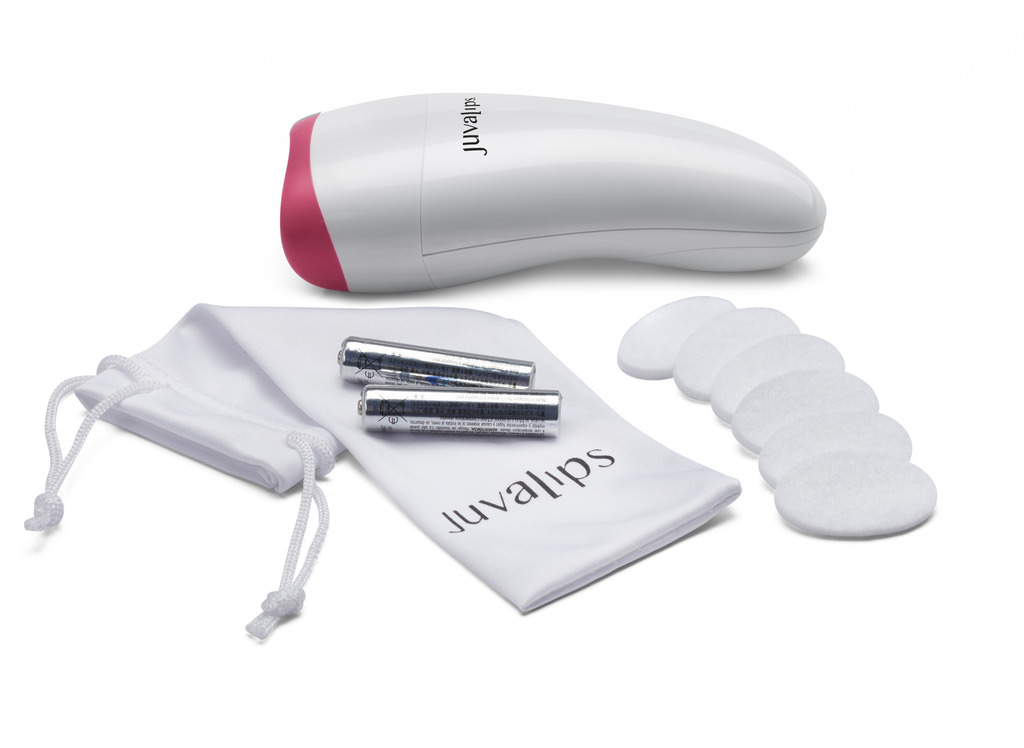 JuvaLips, makes a great gift for those who want an all-natural and safe solution to magnifying their pout. There's no need for expensive lip injections, painful topical acids or fillers -- in just a few minutes you can create visibly fuller lips with this ultimate lip plumper. The design has a soft contoured mouthpiece that provides a comfortable seal against your lips that prevents bruising and injury. The patent pending push-button control provides timed treatments at a carefully regulated pressure to boost blood flow into the capillaries of your lips, giving you dramatic results. 1-2 minutes is all it takes for results that last for up to 8-10 hours or even longer after repeated use. It not only as the potential to help you get an amazing smile, it can also minimize fine lines around mouth area. You'll see amazing results right away and leave everyone else with major lip envy! JuvaLips comes with a 30-day money back guarantee and a full one year warranty.
Robin Mcgraw Revelation Luxury Skincare Collection
Robin partnered with acclaimed dermatologist Dr. Jessica Wu to launch her luxury skincare collection made up of 14 products, including daily and nightly regimens, as well as innovative brightening and advanced treatments. Each product boasts beautiful packaging with inspirational quotes hidden under each lid. Some gift ideas include:
welcome back YOUth This serum with 0.3% Retinol helps diminish the appearance of fine lines and wrinkles and helps visibly brighten dull skin
vita-boost Packed with 20% Vitamin C, this serum helps balance skin tone and diminish the appearance of hyperpigmentation
let there be bright This highly stabilized 10% Vitamin C serum fades the appearance of existing spots and discoloration while protecting and brightening
Skin Authority GO! Love Kit
Skin Authority's Go! Love Kit is packaged in a pretty Valentine's Day theme. Includes a 21-day supply of effective skin care in travel sizes. Included are my faves: Daily Cleanser, Resurfacing Accelerator, Tri-Power Peptide Hydrator and Daily Defense SPF. And bonus – skin authority products contain no parabens, dyes, fragrances. Skin Authority does not test on animals.
Skinny Tan Tanning Kits
This Valentines Day, give the gift of Skinnytan.com, an all-natural self-tanner that reduces the appearance of cellulite. Skinny Tan has a sweet offer for the season that is too tempting to resist. Introducing the Chocolate Kits, an assortment of Skinny Tan's best products available for one irresistible price. Available in three different sets available in Milk, Semi Sweet, and Dark, these offers make committing easy.
Skinny Tan's Valentine's Day MILK Chocolate Tanning Kit (Set includes 1 Pre Tan Primer, 2 Gradual Tanners, 1 Application Mit, 1 After Glow )
Skinny Tan's Valentine's Day SEMI SWEET Chocolate Tanning Kit (Set includes 1 Pre Tan Primer, 2 7-Day Tanners, 1 Application Mitt, 1 After Glow)
Skinny Tan's Valentine's Day DARK Chocolate Tanning Kit (Set includes 1 Pre-Tan Primer, 1 Body Mousse, 1 Application Mitt, 1 7-Day Tanner, 1 After Glow, 1 24-Hour Bronzer)
Epionce Enriched Firming Mask
Perfect for transforming any bathroom into a luxury day spa! This intensely hydrating mask is formulated with botanical ingredients to help soothe and improve the visible appearance of elasticity and firmness of the skin. This mask will leave skin moisturized, soft, silky and looking radiant in minute: Shop : Epionce.com
Modere Winter Survival Collection
The Winter Care Collection from Modere is perfect for Valentine's Day gift giving and as a gift you give yourself! The Winter Skincare Collection includes:
Skin Veil: Your skin requires protection from environmental factors that may cause dryness. Skin Veil supports your skin's moisture levels and smooths rough patches with rich ingredients and without a greasy after feeling.
Exfoliant: Our invigorating Exfoliant massages and polishes the skin's surface. Each application works to sweep away dead skin and impurities with jojoba beads, olive oil and amino acids, leaving your skin smooth and luminous in the process.
Day Lotion Combination Skin: Our Day Lotion Combination Skin is light and lasting, helping you get rid of shine while protecting your skin throughout the day.
Mary Tylor Naturals
Mary Tylor Naturals, makes and sells natural skin care which enables your skin to look the best it has ever been in no time flat! MaryTylor's products are certified organic and Kosher. Mary Tylor Naturals Gift Set has everything you need to create organic lip balm and is makes a great gift for the beauty obsessed DIY-er. The set includes: Organic Shea Butte, organic Cocoa Butter, organic Beeswax Pellets and Clear Empty Lip Balm Containers.