Protect, heal and nourish your skin this winter
By Carla Snuggs
We are halfway through winter and if you're anything like me, my skin is feeling the wrath. With cold temps and storms all over the country, it's time to combat (prevent and treat) dry, itchy, flaky skin, acne and inflammation. To that end, we have 10 fabulous winter skincare tips from Dove Dermatologist, Dr. Mona Gohara.
Top Winter Skincare Tips
1. Avoid very hot showers – they are good for the soul, but bad for the skin.
2. Choose a multitasking product like Dove Deep Moisture Body Wash. It contains a mild cleanser, skin identical lipids and NutriumMoisture technology. It protects essential skin proteins and lipids while cleansing, leaving skin nourished, soft and smooth.
3. Avoid harsh cleansers such as traditional soaps. They strip the skin of essential oils leaving the skin dry, flaky and rough while accentuating fine lines. Instead, opt for a gentle cleanser. Instead use products with natural ingredients like turmeric, which protective effects against skin-damaging chemicals and environmental pollutants.
4. In colder months, use a humidifier and avoid blasting the heat in your face while driving.
5. Don't over-exfoliate as it sets you up for flakes on the face. When you do exfoliate, use a gentle exfoliator.
6. Eat, drink and be merry. Eating foods rich in nutrients such as nuts and avocados can help overall hydration. And don't forget your h20, it's a must!
7. Choose your OOTD wisely. Coarse materials such as polyester and wools make dry skin worse. Instead, stick with soft cotton fabrics.
8. Remember that just one shower with the right product, such as Dove Deep Moisture Body Wash, can make a difference both in skin and self-confidence. New research has shown that an incredible 98% of women feel more confident when their skin is moisturized vs. dry.
9. Gently pat skin dry (instead of rubbing) when leaving the shower.
10. Apply a moisturizer within minutes of getting out of the shower. That way, you're able to trap in the ambient humidity before it evaporates.
Posh Beauty Blog's Winter Skincare recommendations:
Bétèrre Body Luxury Duo
Bétèrre Body Luxury Duo is a body luxury set is the perfect splurge and it helps keep skin soft and smooth through the harsh winter months. This set includes: Deeply Nourishing Body Moisture Cream (a dense, rich body cream that provides long lasting, luxurious hydration for your whole body) and Golden Elixir (a nutrient-rich elixirmade with Vitamins C and E to nourish, soften and smooth your skin to create the perfect glow). The Moisture Cream smells heavenly and the elixir is the perfect light night time treatment
H20+ Skincare Kits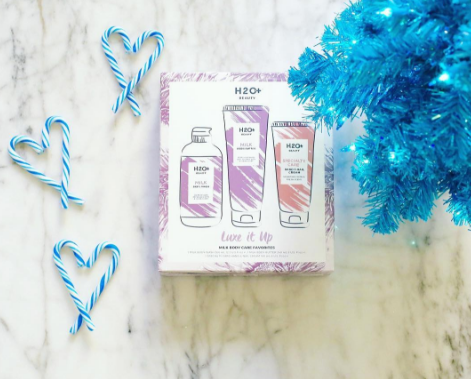 Hydration-focused skincare company H2O+ Beauty, leverage the hydrating power of pure water, with soothing skin and body care that provides just the right level of hydration for any skin type. Their particular expertise is especially suited to winter months, when skin tends to suffer in the harsher, drier weather. Try their Luxe it Up kit, their award-winning body butter and other luxurious moisturizing products. I am also gaga for the h20+ Sea Salt Glow Factor kit. It helps dull winter skin regain its summery shine and supple feel.
Jaliman MD Sea Radiance Gentle Cleanser
Dr. Debra Jaliman, a board-certified dermatologist and author of "Skin Rules: Trade Secrets from a Top New York Dermatologist" has a new line of products, one of which is the Sea Radiance Gentle Cleanser which is a great cleanser for winter, especially because it is so moisturizing and can be used for both extra-dry and acne-prone skin. Hyaluronic acid, organic chamomile, ceramides, vitamins and organic aloe vera to hydrate and nourish your skin.
Skin Authority Calming Mask
Skin Authority Calming Mask helps exfoliate, clear pores, dry blemishes, and reduce the appearance of redness that is so common in winter. This mask is so multifunctional and soothing - you can also use this mask to spot treat any of these issues. It's great for sensitive skin because it contains no parabens, dyes, fragrances. And, as I always love, Skin Authority does not test on animals.
Osmosis Pür Medical Skincare's Clarify Vitamin A Blemish Serum
Redness, dryness, and itching is common in winter. Osmosis Pür Medical Skincare's Clarify Vitamin A Blemish Serum is a Gluten-Free, Vegan and unique way to treat acne with retinol. Ideal for all breakouts including blackheads, cystic acne and whiteheads, Clarify normalizes the body's production of oil by shrinking the size of the pores: the source of oil secretion. This hydrating and inflammation reducing formula is made possible with patent pending Liposome Delivered Retinaldehyde, the safest and least irritating form of Vitamin A on the market with the same effectiveness as Retin A.Clarify contains soothing botanical extracts and essentials oils like Basil Leaf, Rosemary, Tea Tree, White Grapefruit Peel Oil, Cucumber and Eucalyptus.
DermWorx Masque and Sunscreen
In order for your skin to get a nice glow this winter it's necessary to get rid of that outer layer of dead dry skin. Rather than shelling out big bucks for a professional procedure, try this at-home treatment. The Hydro-Exfoliating Masque provides a progressive microexfoliation and is designed to fight visible signs of aging, environmental damage and oxidative stress by combining high-tech and natural ingredients. Includes an effective blend of Alpha Hydroxy Acids, antioxidants and botanical actives proven to improve a range of aesthetic outcomes:
Alpha Hydroxy Acids [Glycolic (4%) and Lactic Acid (1%)]: Exfoliate, promote cell turnover and deeply hydrate
Kola Nut: High antioxidant content and has antimicrobial properties
Licorice Root: Powerful brightening and tone-evening ingredient
Hyaluron, squalene, soy: Pro-hydration ingredients
Sunscreen should still be a daily staple. Consider using a Sunscreen that is more moisturizing than the standard formula. Unlike traditional sunscreens, Pure Balance Sunscreen is a botanical-based 4-in-1 multi-tasker:
Sun protection: Broad Spectrum SPF 25. Mineral sun protection achieves broad spectrum protection without white, chalky zinc
Antioxidant: Contains a blend of potent antioxidants
Hydrating: Creamy, emollient texture keeps skin supple without the white residue
Soothing: Contains botanical calming agents
TIP: Apply this on your face each morning and use as your daily moisturizer before applying make-up!
Sjal Saphir Concentrate
Sjal Skincare (based on gemstones and minerals is formulated using more than 200 rare ingredients including energy-infused precious minerals and gemstones like gold, platinum, sapphire, and amethyst, the integrative skincare line promotes elasticity, restoration, and brightness) has a NEW Anti-Aging Face Oil/ SJÄL SAPHIR CONCENTRATE is an absolute miracle oil – a serious, anti-aging treatment oil with calming and restorative benefits. It's made with an artisanal blend of rare essential oils and supra-3™, a proprietary anti-aging bioactive complex designed to visibly diminish the appearance of fine lines and wrinkles, increase elasticity, plump and revitalize skin.ts tranquil blue color is naturally derived from the blue chamomile, known for its calming, healing anti-inflammatory properties. This 'liquid silk' weightless oil is infused with energy from Himalayan blue sapphires and aquamarine gemstones, which are known to facilitate clarity, calming and balance.
Exuviance Mask and Eye Treatment Pads
Exuviance Overnight Recovery Masque is a potent anti-ager that intensifies the skin's natural nighttime repair cycle, allowing you to sleep away the day's damage. With a uniquely soothing water-gel texture, the lightweight masque provides immediate relief to stressed skin, working overnight to reverse the effects of pollution, UV exposure, humidity and extreme temperatures on skin. The result is a smoother, more even and ageless complexion come morning. Then there's Exuviance Intensive Eye Treatment Pads: Firm and hydrate the delicate skin around the eye area. These single-use pads contain concentrated ingredients to provide maximum anti-aging benefits in a gentle formulation. Lactobionic Acid (10%) hydrates while it stimulates cell renewal and supports the dermal matrix, firming the skin and minimizing the appearance of fine lines. Pre-packaged in sets of two, they are the perfect way to refresh, replenish and revitalize your eyes after a long day Shop: Exuviance.com
Beyond Coastal Sunscreen
Beyond Coastal Sunscreen is a family owned sunscreen brand based in Sun Valley, ID dedicated to bringing consumers a premium sunscreen that also works to nourish, hydrate and repair your skin. Another fun fact, Beyond Coastal was recently named among the healthiest / "least hazardous" sunscreen brands on the market in both the mineral and non-mineral categories by the Environmental Working Group for the 5th year in a row. I love the Natural Formula. Shop: Beyondcoastal.com
Amopé Pedi Perfect Wet & Dry Rechargeable Foot File
Amopé Pedi Perfect Wet & Dry Rechargeable Foot File. Amope launched this foot file earlier this year and is the first electronic foot file on the market to work on both wet and dry skin. Its waterproof, dual-speed & rechargeable features make it even easier to expertly buff away dry, hard skin (that becomes all too common during the winter months!) in an instant anywhere – even in the tub or shower. It's like having a professional pedicurist at your beck and call and we can guarantee your readers will LOVE the results. This product is perfect for getting hands and feet smooth, shiny, and ready to show off even when the weather outside is frightful! Purchase at Walgreens and retailers like Target and Beth, Bath & Beyond
So Fresh So Clean Mask
So Fresh So Clean GROOVY GREEN TEA WASH-OFF MASK is perfect for winter skincare too and won't break the bank! This mud based mask releases a warm sensation that reaches deep within the pores to dissolve and dislodge the build-up of impurities As a reminder The formula contains:
Green Tea & Witch Hazel help to unclog pores & purify skin
Cucumber & Chamomile help to condition and soothe skin
Tea Tree & Salicylic Acid help to control oil & acne
Aloe Vera & Vitamin E help to moisturize skin
Vitamin C helps to brighten skin
TULA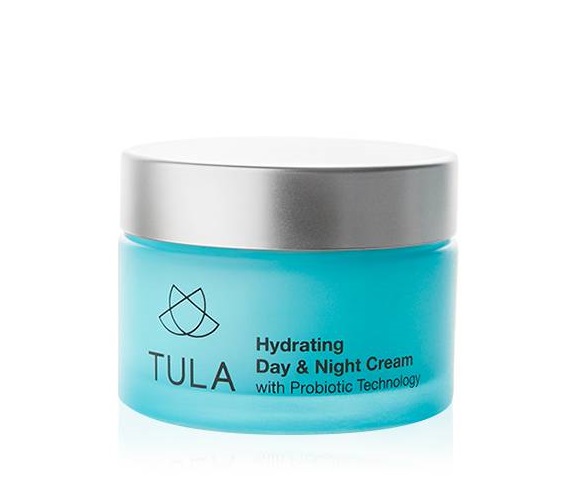 I haven't used TULA in a while, and am so glad to include their products in my roundup! If you haven't seen my posts on TULA, a little reminder--- All of TULA's products include a proprietary blend of ingredients:
Probiotics
Nutripeptides from hydrolyzed rice
Vitamins, including A, C and E plus antioxidants, including turmeric, white tea and blueberry extract
Omega 3 and 6 fatty acids
This winter, keep your skin hydrated with these essentials:
TULA Overnight Skin Rescue Treatment: This potent treatment cream was developed specifically to work with your skin's natural nightly repair process to reinvigorate the skin overnight
TULA Hydrating Day & Night Cream: A multivitamin for your skin, this innovative moisture cream deeply hydrates to maintain a healthy complexion day to night. Shop: Tula.com
Kelapo Coconut Oil
Coconut oil is THE must-have product for winter as it is an all-natural way to cure dry sin and redness,. Kelaopo's travel pouches are amazing for flights and road trips! Each organic, fair trade pouch of coconut oil is pre-measured with a tablespoon ofcoconut oil and is also TSA friendly. Once opened, the coconut oil may be applied to dry areas of the skin for added moisture. This is especially great during long plane rides when lips may get chapped, dry hands occur, or even for redness around the nose. Once cyou get to your final destination, these travel packets are great for hotel stays as well. Since coconut oil is a jack of all trades, it can also be used as a makeup remover, hair mask, and de-frizz agent, in addition to a topical moisturizer. It's great to use all-around but I find myself using more and more coconut oil in winter and summer.
First Aid Beauty Facial Radiance Intensive Peel
Exfoliation is the key to radiant skin at every age. Instantly reveal dramatically brighter, softer, and more youthful skin this winter with First Aid Beauty's Facial Radiance Intensive Peel. This non-abrasive, extra strength at-home exfoliating treatment is clinically proven to help visibly smooth and improve skin dullness after just one use and deliver even more dramatic results over time. The skin-transforming multiacid peel provides professional-level glow on-demand, without the irritation or down time. Three powerful exfoliators: Lactic Acid, Salicylic Acid and Mucor Miehei extract – work synergistically to retexturize skin, while a combination of clay and active charcoal create a pH sweet spot to ensure both safety and efficacy.
Disclosure: Press samples were provided by the brand/PR for editorial consideration, product testing, photography and review.
What are your winter skincare must-haves? Leave your comments below!