My favorite beauty products for September 2016
By Carla Snuggs
It''s been a busy summer with lots of travel and fun with family and friends. Summer flew by and fall is in full swing. It's time again for my faves roundup where I share some of the the BEST beauty products tried by myself (or contributors) throughout the months of August an d September. I have discovered some new brands and some new products from the brands I love. What are some of your most fave beauty products you have tried this month? Leave your comments below!
Dermelect's Fall 2016 Unearthed Nail Collection
Dermelect's Fall 2016 Unearthed Nail Collection, features six peptide-infused, vibrant shades that marry the beauty of Mother Nature with the opulence of high fashion runway trends. Beyond imparting gorgeous, long-lasting color on nails and toes, Dermelect's Unearthed Collection gives back to the earth its drawn inspiration from by partnering with the non-profit Trees for the Future. The brand has committed to plant one, new tree for every polish sold from the collection through April 2017 with a minimum donation of 10,000 trees planted. Boasting richly pigmented formulas with Dermelect's signature keratin protein peptide to strengthen nails and extend the life of the manicure, the Fall 2016 Unearthed Collection offers six gorgeous color formulations:
Nobody's Fool - Chrome Marigold
To The Core - Russet Copper
Magmatized - Fiery Red
What a Gem - Shimmery Pale Quartz
Diggin' You - Crème Burnt Umber
Verdure - Lush Hunter Green
Shop: Dermelect.com.
Nair Nourish Line and Nair Wax-Ready Strips
To keep skin looking radiant and beautiful, use a moisturizer with SPF 30 every single day. Look for a broad spectrum sunscreen. The Nair Nourish line is a better alternative to shaving, avoiding razor burn and nicks, while truly moisturizing the skin. I love the Shower Power Nourish best – it goes to work while you're in the shower and stays on while you're showering. Using Nair also lessens the chances of getting folliculitis. Going to a sunny destination for the fall and holidays ? Get Rid any unwanted body or face hair with Nair Wax-Ready strips. They're easy and involve no prep – just peel and place. Great for stray hairs on your chiny chin chin.
Mally Beauty 4K Ultra HD Fantasy Foundation
This lightweight powder formula preps and primes the skin in one single sweep. Mally Beauty 4K Ultra HD Fantasy Foundation is packed with coated-powder pigments that fill fine lines and deflect light to create a flawless, soft-focus finish that looks naturally radiant and never "done." It's also enriched with conditioning coconut oil to keep your complexion flake-free. It comes in five shades: Fair, Light, Medium, Tan and Rich. The Rich matches me perfectly and gives me a natural looking glow! Available at QVC and Qvc.com.
Worry-Free Pedi
Treat Yourself -- Worry Free Pedi™ sanitizing tablets gives you peace of mind at your next spa appointment. With risk of whirlpool tubs containing microbacteria that can produce warts, MRSA, athlete's foot and toenail fungus, how relaxing can your spa day really be? Worry Free Pedi™ offers fast, effective sanitizing effervescent tablets that you add to your pedicure bath. Available in individually wrapped packs, you simply carry a tablet with you to the salon and drop it right into the footbath. Just one tablet eliminates 99.99% of bacteria and fungi. Worry Free Pedi™ are available in packs of 8 tablets and will soon be available at Walmart.com and Kmart.com.
Sally Hansen Big Shiny Top Coat and Big Matte Top Coat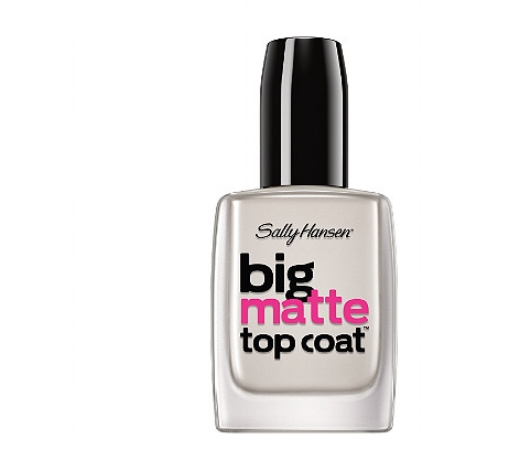 Sally Hansen Big Shiny Top Coat and Big Matte Top Coat are mani must-haves for all nail lovers. With these Top Coats you can amp up stylish 3-D textures, intricate designs, and precision stripes, apply over any Sally Hansen® nail color and even bare nails for an ultra-quick-drying layer of shine or matte effect along with nail-strengthening protection. It's a great way to get more miles out of your nail color because you can give them different looks. Big Shiny Top Coat™ is fortified with an Acrylic Polymer Complex to help give your manicure a high shine and gel-like finish that dries in less than 60 seconds. Big Matte Top Coat™ transforms a glossy manicure of any color into a velvety matte for an edgy, unexpected finish. Containing a mattifying Silica agent, the formula brushes on glossy before instantly drying to a matte top sealant.
butter LONDON, whose LIPPY Liquid Lipsticks
A full coverage, high shine liquid lipstick, the LIPPY Liquid range is a supercharged take on the statement lip. Drawing inspiration from the perfect nudes and plush pops of color straight from the catwalks, these are anything but your average lipstick. A unique 2-in-1 formula gives the pigment of a lipstick with the high shine of a gloss that increases the more you apply. Moisturizing shea butter and vitamin E allow for a smooth application and a cushiony texture. Forget the need for designer shoes or diamond rings – your lips will become an eye-catching accessory in themselves. Shop: Butterlondon.com.
Studio 10's Lip Perfecting Plumping Gloss
Get the perfect pout every time with Studio 10's Lip Perfecting Plumping Gloss. Packed with enriched with Omega-3 Plankton Extract and hyaluronic acid, the Lip Perfecting Plumping Gloss works to hydrate and plump while also diminishing the signs of fine lines and adding insanely beautiful color.
Mirakle Cream
If summer left your skin a bit damaged, Mirakle Cream's genius formulation can help hydrate, repair, and replenish your skin for a fresh fall start. Mirakle Cream's antioxidant-rich recipe is handcrafted in the U.S.A. and is the perfect blend of natural and science with natural ingredients such as beeswax, coconut oil, sea buckthorn, shea butter, cocoa butter, aloe and soothing algae to help moisturize, soften, balance and brighten skin. Helps calm skin while protecting skin's moisture barrier and fighting signs of age. Hyaluronic acid acts as a humectant, continually drawing moisture from the air to keep skin hydrated at all times. Peptides help skin appear smoother, more youthful and radiant. Better Skin Mirakle Cream is free of gluten, parabens, fragrances, and safe for all skin types. Shop: TheBetterSkinCo.com
Belli Skincare Stetchmark Minimizing Cream
Stretchmark Minimizing Cream from Belli Skincare which is specially formulated to decrease the appearance of existing stretchmarks of any age, regardless of the cause? The Cream features darutoside & regisstril, ingredients shown in research studies conducted by Phybiotex Labs, Sederma Group, France, 1997 to visibly reduce the appearance of stretch mark depth by up to 72% and stretch mark length by up to 52%. It defintely has smoothed and tigghtened the skin on my thighs and buttocks after using it for a couple of months.
And there you have it! Be sure to let me know if you've tried any of the above products and leave suggestions for future posts. Thank you!
Disclosure: Press samples were provided by the brand/PR for editorial consideration, product testing, photography and honest review.